Registration open for 2016 Frozen Foot Race series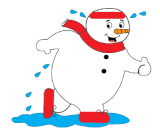 Registration is now open for the 2016 Frozen Foot Race series, Applied Race Management Solutions' premier racing event. This next edition will be held on Jan,. 17, Feb. 21 and March 20, starting and finishing on the campus of Elizabethtown College. Don't delay: The first 175 people to register get a free running hat.
The Frozen Foot Race series attracts hundreds of runners from throughout the Lancaster-Harrisburg area and is the only winter racing series in the area. It is an ideal opportunity for people to make good on their New Year's resolutions and get in shape to run a 5K. For more experienced runners, the series is a chance to test their racing mettle in harsh conditions when temperatures can dip into the 20s and snow and ice make sections of the course slick.
If you're new to the Frozen Foot series, you'll be happy to know that you can warm up inside Leffler Chapel with a cup of soup after the race. On a cold winter's afternoon, nothing tastes better after a run.
We hope you can join us for this great event.