5 things to expect in your first big race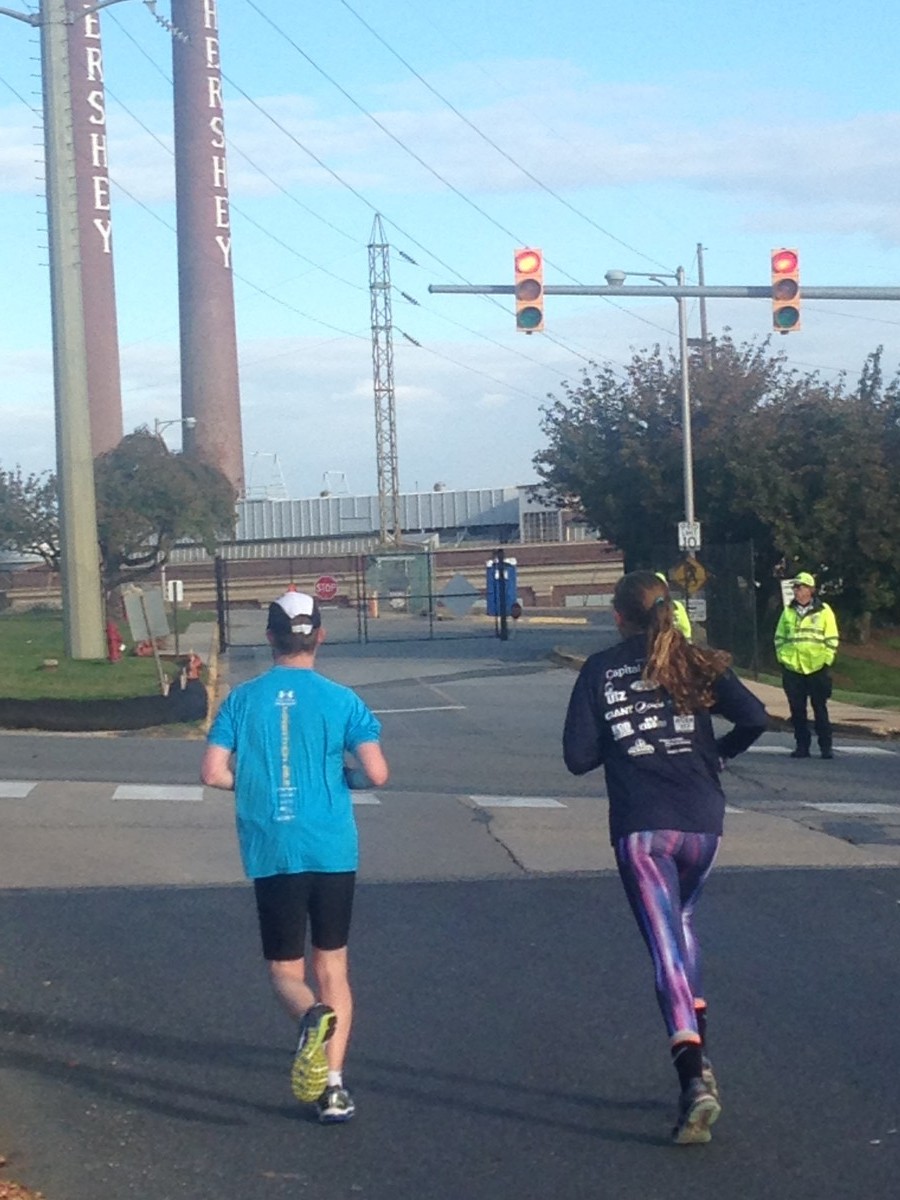 Now that September has arrived, the fall racing season is getting into full swing. Last Saturday, nearly 900 people finished the Harrisburg Half Marathon, which C. Fred Joslyn won for the second year in a row with a time of 1:10:24. That's a blazing fast time, and it can seem intimidating for those of us who are planning to run in our first big race.
When some of us ran our first half marathon in Hershey a few years ago, we were for all intents and purposes a new runner. We had taken 25 years off and not really run anything substantial after graduating from high school. But after deciding to get back into running, we signed up for Hershey and quickly became obsessed with how race day would unfold.
For starters, we were well prepared from a training perspective, and we didn't have any qualms about being able to finish the race. At some point during our training, everything about the distance clicked and we knew it would be all about hitting our goal time (which, at 1:45:10, we beat by 5 minutes). But we had a bunch of questions in the days and weeks leading up to the race. Here are 5 things you can expect on race day based on our first-time half marathon experience.
Traffic just to get to the race start will be heavy
We knew that Hershey had 5,000 runners registered, but we forgot to consider all of the people who would come to cheer on the runners and didn't prepare to get caught in traffic. The race started at 7:30, and at about 6:40, we were a mile away from the Hersheypark parking lot. We had to do some aggressive driving to squeeze into the line to make sure we weren't any later than possible.
Lesson: Leave home in plenty of time to beat the traffic and avoid the stress, even if it means getting up earlier than you think you should.
Lines for portapotties are excruciatingly long
With 15 minutes to go to race time, we had to pee. There was no way around it. So we got in line and thought 15 minutes was plenty of time. Except it wasn't. Finally, it was our turn, and as we were in the midst of our business the starting gun fired. We finished as quickly as possible, dashed out of the portapotty back to our family, stripped down to shorts and a t-shirt and ducked under a rope to start. Thanks to thousands of runners and chip timing, we didn't miss anything — but the portapotty incident added stress that we didn't need.
Lesson: Give yourself plenty of time to use the bathroom before the start of your race. Maybe even use it multiple times so you don't find yourself in line at the last second and missing the official start.
Getting familiar with the course is a big help
We had lived in Hershey for a couple of years and were familiar with much of the half marathon route. As we thought about the race and developed our race plan, we mentally divided the route into three or four sections. Knowing we were done with one broke the race into manageable parts that were less intimidating the looking at the entire course as a whole. There were sections that were less familiar, and we drove the route the day before the race. It was a huge help because there were some hills that we weren't anticipating. Knowing ahead of time helped us to prepare mentally for those sections.
Lesson: If you can manage to do it, scout out the course of your race beforehand. Figure out how to divide it into sections that you can feel good about completing and then moving on to the next one.
Line up with people who are running at your pace
Thanks to the portapotty issue noted above, we ended up ducking under the rope with people who were running a slower pace than we were. So for the first mile or two, we were running a little zigzag pattern to get around people, which wasn't helpful and was a little frustrating at times. Most big races have signs that show where people running certain paces should line up. Some major races have corrals where people running, say, an 8-minute per mile pace, line up.
Lesson: If you line up with runners of your ability, you won't be dodging so many people in the early miles.
It's a blast! Enjoy every moment
That first half marathon was an amazing experience. We weren't at all prepared for the carnival-type atmosphere with music that energized the runners before the start or for some of the crazy antics of some runners (one guy from about mile 5 to mile 6 was yelling at fellow runners to encourage them and caught the attention of some golfers on a tee at the Hershey Country Club to talk some smack. We also saw a young woman peel a banana at about Mile 8 and eat it as she ran. We don't know about you, but we're not that coordinated. We won't lie that the race was tough – it was a half marathon, after all – but nothing compared to crossing the finish line and realizing we had beaten our goal time.
Lesson: Exceeding our goal combined with all of the experiences on the race course had us thinking on the drive home that there would be more half marathons in the future. And there have been.